We hit the road this weekend to celebrate William's BFF's first birthday!!  Harrison celebrated in style, rockin' a bow tie and making short work of his delicious cake.  This was a long-awaited visit, because it marked the first time that William and Harrison could officially "hang."  They met when William first arrived on the scene, but I'm fairly certain William slept through the entire encounter.  Truthfully, they met even before William was born.  I visited Summer when Harrison was just weeks old and I was five months pregnant.  Harrison snuggled my belly and we knew they were destined to be friends for life!!
It was so much fun to watch them together.  Harrison's got 5 months on William, so he was motoring around while William was stuck in one place.  He would bounce in fits to get me to move him closer to the action.  What an absolute blast it will be to watch these boys grow up together!!!
Happy Birthday, H-man!  We're so glad God gave us you!!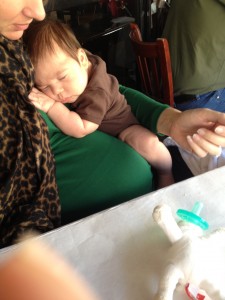 Harrison snuggles unborn Mr. William
BFFs all around!